Switch, Tactile Round Button - 7 Colours
Little clicky switches are standard input "buttons" on electronic projects. These work best in a PCB but can be used on a solderless breadboard as shown in this tutorial. The pins are normally open (disconnected) and when the button is pressed they are momentarily closed. These buttons are bigger than the 6mm ones we carry, and come in a pack of 7. Each button comes with a candy-colored round cap that snaps on. You get one of each color-- blue, grey, yellow, green, red, black, white. The round plastic button tops affix easily to the tactile switch body.
Quick Spec
Action Type: Momentary Tactile Switch
Dimension: 12 x 12 x 11mm (L*W*H)
Button Diameter: 11mm
Pin Pitch: 12 x 5mm (L*W)
Pin Length: 4mm
Material: Plastic, Metal, Electric Parts
Net Weight: 24g
Leg Spacing: 5.08mm (2 x 2.54)
Dimensions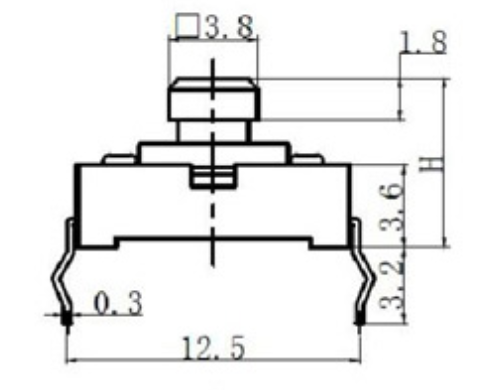 Resources
Shipping List
7 x Switch, Tactile Round Button - 7 Colours
Switch, Tactile Round Button - 7 Colours
Brand: Generic
Product Code: TACTILE7
Weight: 0.018kg
Product Status :

Active

Stock

| Warehouse | Stock Status | Location |
| --- | --- | --- |
| Centurion | In Stock | UC013-UC016 |
| Stellenbosch | In Stock | Y0034 |
| Bulk Location | No Stock | |

We ship free of charge between branches to complete your order.
Related Products